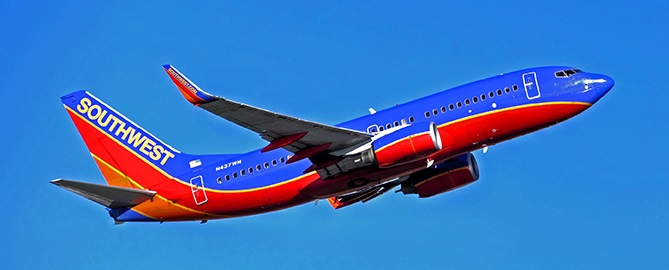 In an industry where its competitors have frequently gotten into serious financial difficulty, Southwest Airlines has maintained profitability every year for the previous 45 years. This is an amazing accomplishment. We will explore some of the strategies that Southwest Airlines has used to drive that success.
Southwest Airlines has only ever flown one type of airplane, Boeing 737's. All its pilots, flight attendants, ground crews and mechanics are trained to work with every plane Southwest owns. Southwest must maintain a parts inventory for only one type of plane. I see two lessons to be learned from the strategy. The first is the value of simplicity. The second is the importance of sticking to your strategy. I am sure that over the years they were tempted at times to buy smaller planes to service smaller markets and to buy bigger planes to service foreign markets. Southwest did not yield to the siren call of chasing every potential customer. They would only pursue those customers who fit within their business model.
Southwest Airlines does not believe that the customer is always right. The late Herb Kelleher, former CEO of Southwest Airlines, said that the customer is not always right. "And I think that's one of the biggest betrayals of employees a boss can possibly commit. The customer is sometimes wrong. We don't carry those sorts of customers. We write to them and say, 'Fly somebody else. Don't abuse our people.'" So, what does this approach do for Southwest's customer service? My own experience is that Southwest employees have always been warm and gracious to my family and me. But for more objective evidence we will look at the Temkin Experience Ratings. Southwest has rated number one for customer experience among US airlines every year since 2011 except for 2015. Read Full Article.
Connect with us on LinkedIn, join our Active Network Program and look at the other areas of connection we offer.