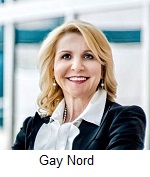 There are likely more articles, books, blogs and seminars pertaining to Leadership than any other subject. In addition to our formal education and training as a leader, we have learned leadership traits from mentors, bosses, and other leaders over the years; we've learned what aspects of leadership we admire, and consider motivating and successful, AND...WHAT ASPECTS WE DON'T.
As a leader, leadership is not about you. Leadership is about those you serve and support, those you impact around you. I've learned over my career that command and control may yield short term gains in performance, and in emergent situations may be needed. However, if the goal is to create and sustain a high performing, forward thinking and dynamic organization and one that attracts the best talent, managing through fear and intimidation will not cut it. Relationships, trust, loyalty and truly caring about people, will build a resilient, loyal, high performing organization. Read Full Article.
Connect with us on LinkedIn, join our Active Network Program and look at the other areas of connection we offer.