I remember conducting an interview for a key leadership role and the candidate kept talking about results and accomplishments from their former job that did not correlate with our environment. We were turned off almost immediately. Remember - organizations have needs, people have skills. Your job is to clearly communicate that your skills are a match with the employer's needs. You must fully understand why the organization is hiring for the position. What are the key skills and competencies needed? What are the measurable goals that define success?
When looking at a position, the first step is to obtain a copy of the position description and read it multiple times - highlighting pertinent sections that clearly demonstrate the reasons why the position exists (goals, skills, competencies). Organizations want to win- you help them win by clearly communicating how your skills are a good match to meet their needs. When speaking with the employer or recruiter, make sure to communicate your specific (numerical) career accomplishments that clearly demonstrate past success that match with the employer's needs. Jobs exist to solve problems and meet needs- show them you can do both.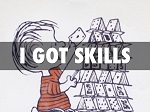 Matching your skills with an employer's needs is nothing more than good listening. Make sure you understand the needs by reviewing the position description, taking notes when speaking with recruiters or hiring managers, and highlight your specific accomplishments that match their needs.
Check out this site for more help with sharpening your skills to match an employer's needs.